Post by Uesugi-dono on Aug 8, 2019 9:00:37 GMT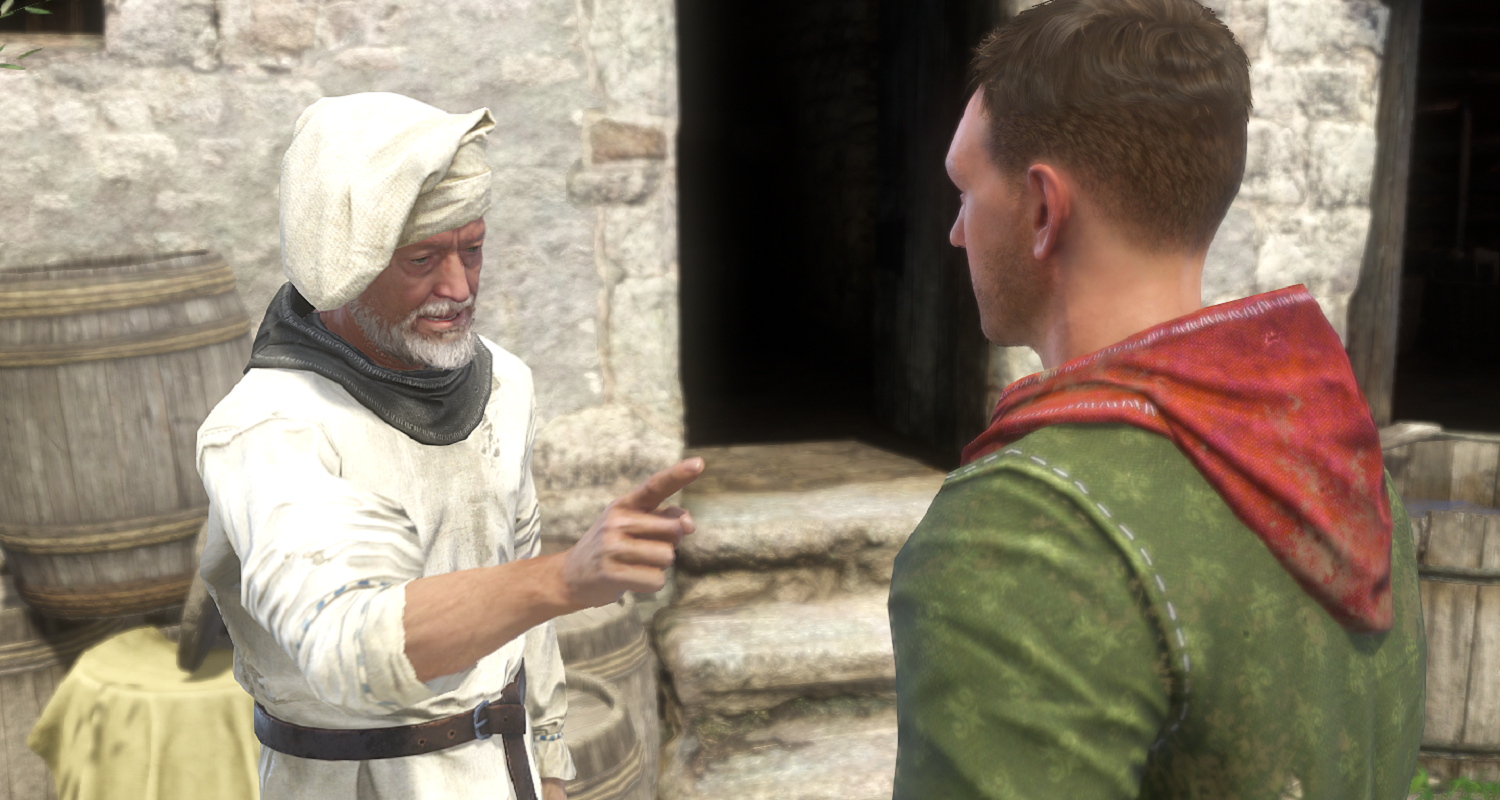 I was indebted to Miller Peshet, after all Theresa said I had been out for two weeks with my injuries and, unlike most refugees from Skalitz, I was fortunate enough to have somewhere to go besides the streets of Rattay. So when he asked me to commit the unseemly, indeed ungodly, task of digging up the body of an executed man to recover a ring I accepted, albeit reluctantly. How far I'd fallen in such a short time; the son of a skilled blacksmith... reduced to a graverobber.


In the end I didn't dig up the grave, I instead reasoned with the executioner. Like all in his trade he lived near the execution site and he buried the bodies of the condemned all around the hill where the gallows sat in unmarked graves. I told the executioner that the condemned man had children who would benefit from the ring their father wore. He extorted from me 20 groschen for the simple copper band, itself not worth a penny, but it seemed important to Miller Peshet.

When I returned with it he bade me deliver it to Miller Woyzeck in Kohelnitz. I didn't even know where that was, except to say far north on the road to Talmberg. But one of Lady Stephanie's agents had found me on the road back to the mill, informing me that she was asking after me. The lady was nice to me during my stay in Talmberg castle so I resolved to visit her; a trip to Kohelnitz would be on the way. I decided to rise before dawn and set out.
Much of my travel was on the road, and I spent a copious amount of time picking St. John's Wort and Poppies along the way; both ingredients in Savior Schnapps I'm told. "Can't hurt to have plenty of that," I thought, plus what's a poor son of a blacksmith to do for money? I can sell herbs at least. I also hopped a garden fence when my stomach rumbled. There was a coop and surely the farmer wouldn't miss a few eggs.

When I finally reached Miller Woyzeck he casually discarded the ring, calling it worthless and just a test the millers had given me to see if nasty things like 'scruples' would prevent me from doing work for them. He tasked me to go to Talmberg; there lived a guard who had wronged him. He wanted revenge. I was to steal five waffenrocks (tabards) from the armory. This guard was in charge of them and if they went missing he would receive a lashing. Lord, what have I gotten myself in to? But I set off anyway since I was already bound to see Lady Stephanie.
I struck out overland for most of the long journey to Talmberg, crossing through thick forests. I was now carrying a massive amount of herbs, enough to prevent from from a pace quicker than walking, and clambering through the forest meant slow-going anyway. Luckily I happened upon the wreck of a wagon that went careening off the road and found a chest in the wreckage which included beer, mead, and wine! Good fortune!
A little drunk I stumbled on, full but not overfull. A lunch of beer! Not bad for one such as me. I made it to Talmberg that afternoon and found a trader who gave me fourteen and a half groschen for my load of herbs, though not without haggling. So I'm still short after the executioner's extortion, but Lady Stephanie sought me out because she trusts me to collect three items for her cousin's wedding, a roan, an ornamental crown, and some fine wine. She would surely pay well, even giving me one hundred twenty-five groschen to pay for the wine! I decide that Miller Woyzeck's unsavory task can wait, after all the wedding is soon, so I set off immediately for Uzhitz. Having the roan first will mean faster travel, and all three of these items are in three different cities. Plus the horse can carry far more herbs than I. Maybe I can finally get my money back.
In real terms I spent the afternoon with a
walking simulator
. I walked and walked and then I walked some more! Talk about realism; I wasn't accosted by
any
bandits, found
no
wolves, and the most excitement I had was finding the wreck and the booze! The game is real enough that I
must
get the items for the lady in a timely manner because the wedding will happen
whether or not
I return in time. Unlike other game quests I have no timer, just the knowledge that I need to get this done without getting distracted by other quests.
Kingdom Come is really my kind of game; an escape into a realistic depiction of life in the middle ages. At this stage Henry, our hero, is a refugee after his home of Skalitz was attacked. He's a layabout with no real skills, preferring to fuck off with his friends and drink instead of work. But now, suddenly, I
need
skills. Henry sucks at fighting, he sucks at stealth, he sucks at picking pockets, and he MEGA SUCKS at picking locks. (The hardest mini-game in the history of gaming, I swear.) I really can't
do
anything (and in order to correct that I must
try
everything. You gain XP by doing, not spending points. Teachers can teach you techniques but you can only perform them if your level in the skill is high enough) so imagine my joy when my herbalism stat rises from just me picking flowers! Making Savior Schnapps isn't just a good way to create my own game saves (You need the schnapps to save the game manually, otherwise it just happens at certain story points or when you sleep) but the alcohol sells for a pretty penny! Of course, I need someone to teach me how to brew it first...
This game will be a massive time sink for me but I
want
to be better at it. It's really rather unique and, so far, I am really
enjoying
it. I had a very nice, relaxing time walking through the pastoral hills and forests of Bohemia. The game is beautiful. Even though Henry doesn't jog or run everywhere, like other games, and I don't yet have a horse I actually had a good time just walking the five or six literal miles from Rattay to Talmberg. In-game I left at 5 am and I got to the castle about 3 pm, but I did stop to pick several bushels of herbs. (irl I spent about 2 hours playing.)
I'll put more adventures here as they unfold but, for now, this game is more than worth the 20 bucks I gave for it.