Post by Uesugi-dono on May 10, 2018 9:07:46 GMT
Failing my first campaign taught me a lot. My first character was Kenshiro "Secondlight" Uesugi, a noble (every character starts with this background) with roots in the Draconis Combine, a Japanese culture-dominated state known for its militarism. I had a pretty ideal start with him but I wasn't the leader of our little mercenary band for long before I bankrupted the company. I made a classic video gamer mistake: I tried to be perfectly prepared. Battletech isn't like that at all. Battletech is a game about living on the ragged edge, one step away from disaster, trying to make the best 'bad' decision you can to keep your company from the jaws of its creditors. It wasn't long before our dropship got repossessed and once that happens...
I restarted with Riana "Hysteria" Klaue. Riana grew up in the Rimward Periphery, an area of space rife with bandits and after her exile from her noble family that's what she became: a pirate. It was one of these pirate raids-gone-wrong when she was found by Raju "Mastiff" Montgomery, a veteran of the Third Succession War and former Master-at-Arms of House Klaue... Riana's trainer in her youth. He was working for the Royal House Arano in the Aurigan Coalition and that's where he brought her. After a "reformatory" period Riana was lifted to the Royal Guard, assigned to Lady Kamea Arano, heir to the Aurigan Coalition.
Raju "Mastiff" Montgomery Lady Kamea Arano
When High Lord Tamati Arano passed Riana was tasked with escorting Lady Arano to her coronation. Of course this is when her uncle staged a coup. This
is
Battletech, after all, and it has been compared to Game of Thrones in space! The betrayal was pretty in depth; the enemy was entrenched within the Royal Guard and before long the mission became "help Lady Arano escape" with only Mastiff, Arano, and Hysteria herself battling their way to a dropship. Early in the engagement Mastiff's left arm got blown off his Centurion mech, forcing the most capable mechwarrior I had into a support role. Suddenly Hysteria's Blackjack was taking a
lot
of fire, being forced into the lead, but Lady Arano was a capable pilot herself and before long we managed to make it to the dropship. I should say that losing Mastiff as a lead warrior changed this inaugural battle
dramatically
. Whereas Secondlight had little trouble, Hysteria made it out by the skin of her teeth. Shit happened and before long Hysteria was forced to eject; her pilot compartment being launched into orbit to await recovery. Sadly things did not go according to plan. Hysteria was rescued by a band of mercenaries on retainer by House Arano but also suddenly found herself friendless and unemployed.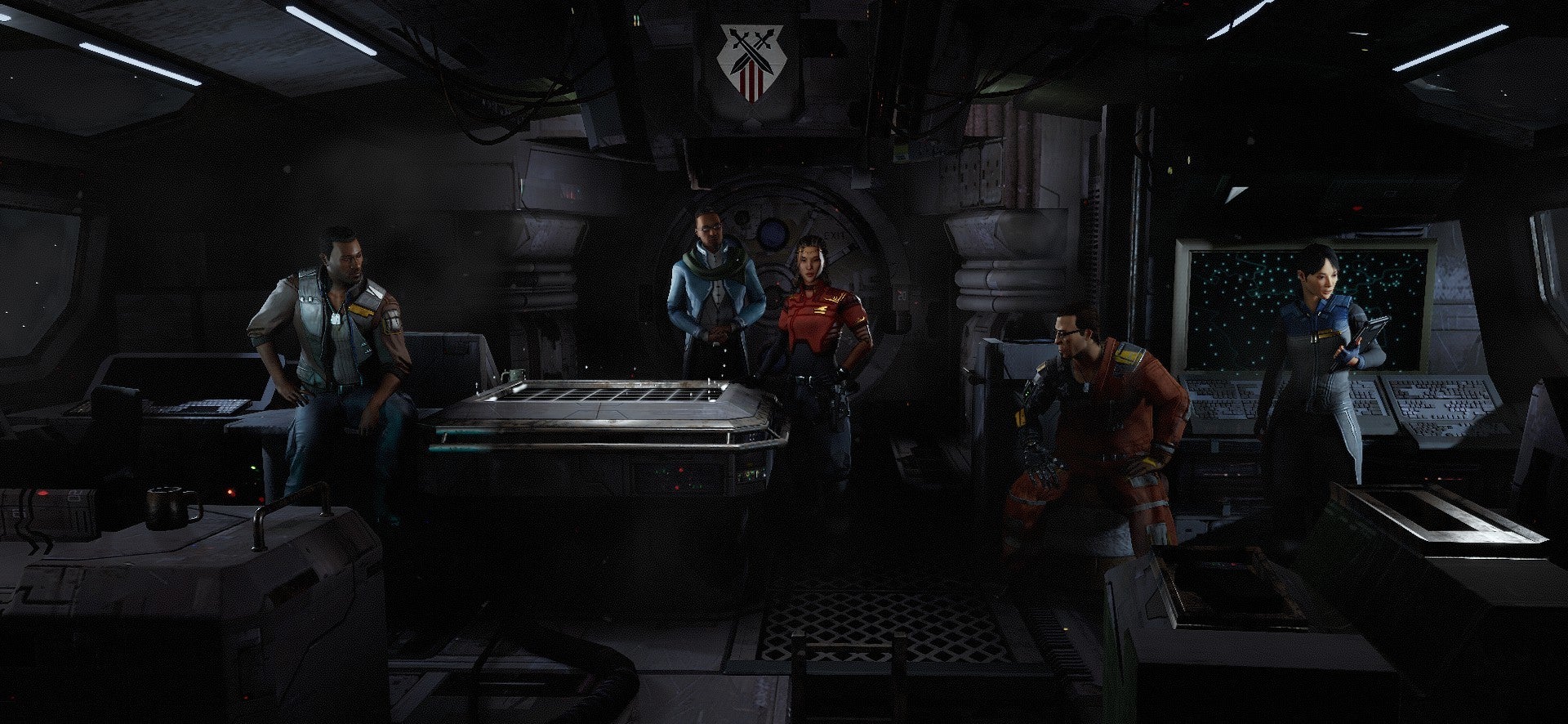 The mercs, Markham's Marauders, had recently lost their commander who was on the planet's surface when the coup took place. With no one really willing to step into place, and with Hysteria's noble background, it wasn't long before she was elected leader of the band. With this promotion I renamed the company to simply "Mjolnir" and the game skipped forward three years in time to what should have been a relatively simple mission: a group of miners had been forced out by another company and hired us to retake their mining platforms. All we had to do was hit the turret generator at Site A to disable the enemy turrets and then hit the security building at Site B, taking out any resistance we met along the way. Easy right?
Nope. It wasn't easy! Hysteria had an easier go of it than Secondlight did. As Uesugi this is really the mission where I lost... only I didn't realize it til later! The massive damage I suffered on this mission (due to a premature approach and a prolonged battle with said turrets) and the subsequent repairs are what would eventually bankrupt Secondlight. So with Hysteria I was
much
more cautious. Still things went awry, as things are wont to do. Hysteria's Blackjack was really the only mech to suffer serious damage but that damage was suffered to the
head
. The head being where the pilots compartment is! She soldiered through it and we finished the mission but Riana herself would be sidelined with injury... for
69 days
.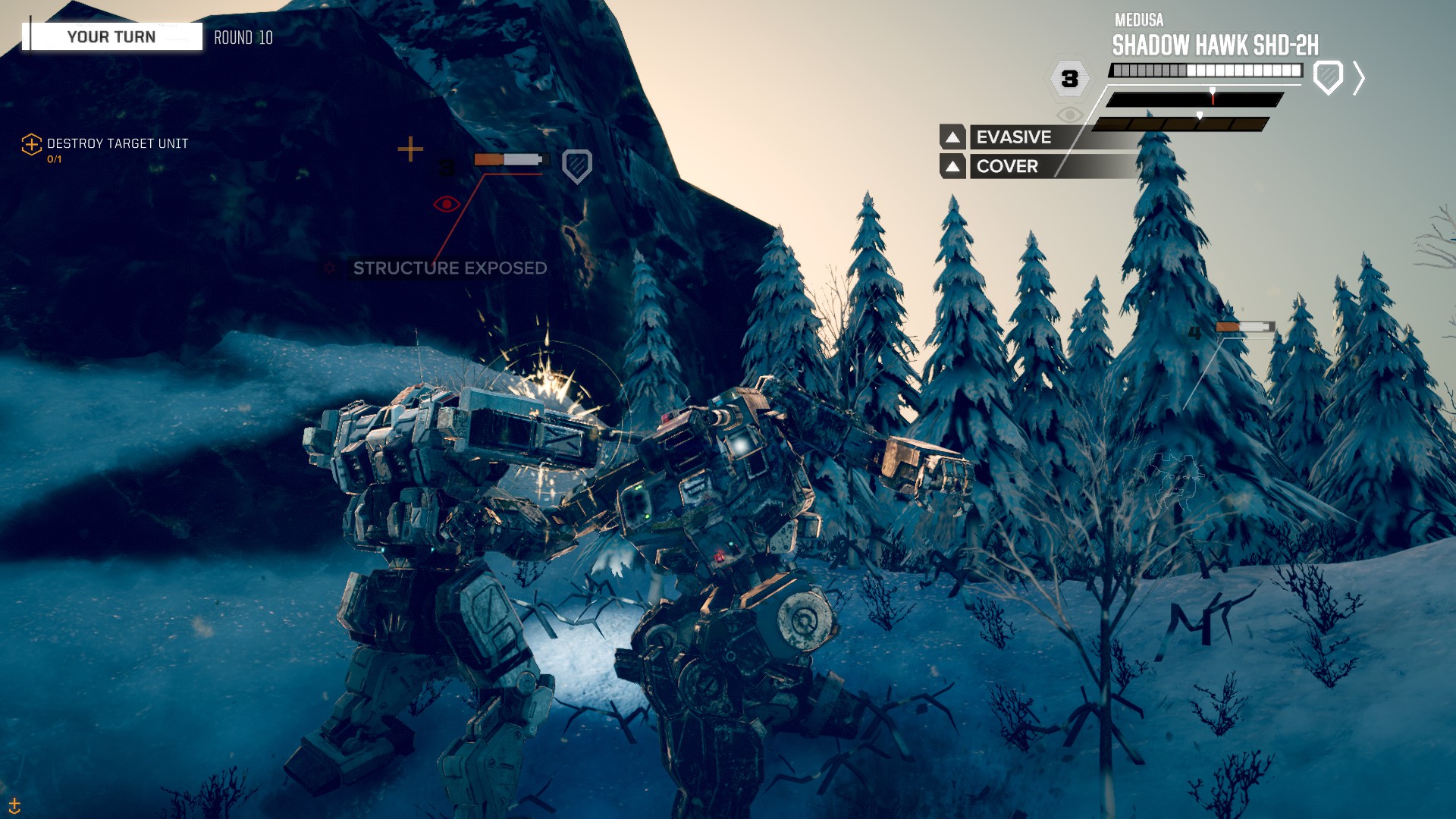 I had to assign a different pilot to Hysteria's Blackjack, which means my main character is going to miss out on a lot of this early game XP that should be building her up! However I got pretty lucky with the next mission. There was a local contract so I didn't have to travel (Jumpships are expensive taxis that carry your dropship from system to system) and all I needed to do was fend off a band of pirates Seven Samurai-style from a local government military base. Also the planet was cold... very cold, which is good...
very
good for heat-intensive mechs. Basically whereas Secondlight dealt with a shit-ton of desert planets during his short tenure Hysteria's band got to go weapons-free on these pirates. I opted to let them come to me, posting up two long-range mechs on the base itself and hiding two in the thick tree cover as the unwitting enemy approached. With the first salvo I blew an arm off the pirate mech and destroyed one of their tanks. The rest was mopped up pretty easily, even though the pirates pulled off a successful pincer maneuver; coming up and over the mountains to the west of the base. I managed to use my light mech's jump jets to smash an enemy tank, willfully dealing damage to its legs, but that would be the only damage I took during the course of the mission.
Battletech tanks and ground vehicles in their original, tabletop form.
Then I got lucky again: another local contract on the same icy world escorting a government convoy and protecting them from an anticipated rebel assault. After dropping into an active combat scenario and fending off an enemy mech and several support vehicles handily the escort raced out to their rendezvous point with my Lance flanking them the whole way. The whole mission went off flawlessly and I managed to get them to extraction before the enemy could even reach us. With success behind us now came the secondary part of the mission: did I want to go for more money by wiping out the late-coming rebel forces? Hell yes I did! I hid three mechs in forest cover and sent my sniper up a mountain as an enemy mech and 4 ground support vehicles attempted to set up an ambush on the other side of the mountain pass. It was a game of chicken; neither side willing to spring the trap. This suited me fine because it gave Glitch, my sniper, plenty of time to get into position. Then I tasked Medusa, piloting Hysteria's Blackjack, to act as a decoy; moving into full exposure. I picked a spot far from the pass and the enemy mech took the bait, coming around from the side and over a mountain to fire a Particle Projection Cannon (sniper) at my mech but the Blackjack's evasion (a combat condition affected by your movement) proved high enough to allow the messy shot to miss.
It was all timed
perfectly
. Immediately the Blackjack returned fire as both my Shadowhawk and Locust burst from cover. The enemy Centurion was suddenly missing an arm and most of its armor, the internal systems taking a beating as well. With three mechs exposed the enemy ground support raced into the pass... and into the waiting sights of my Vindicator sniper, waiting patiently atop the peaks. Within two rounds the enemy mech and three support vehicles were toast, leaving one rebel tank trying to flee up a mountainside at long range... but not long enough. What's the old adage about snipers? "If you run you'll only die tired?" Yeah, that's it. A flawless mission! No appreciable damage. On that mission alone, with the bonuses for wiping out the enemy, I made over 353
thousand
C-Bills. That put my cash on hand, after just two independent missions, at over 1.2 million! (By contrast at this point poor Secondlight was struggling to make a 225k loan payment.)
At the point I'm at now we've just been offered a shadowy off-the-books mission. This was the mission that Secondlight was about to deploy on when the repo man came to collect his due, so I'm doing
loads
better. Hysteria still has a month on her recovery time but with travel to the new Jumpship and then to the new system she should be able to get back in action within a mission or two. I can definitely say this much: I
love
Battletech. The strategy, interpersonal interactions, and the GoT level drama between Great Houses all draws me in perfectly. With any luck I'll update this journal more. I hope you guys enjoy it.